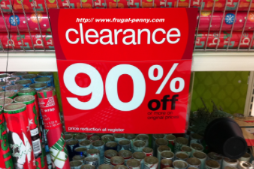 Target Christmas Clearance Sale + Reader Deals (Up to 90% Off!)
Since posting about Target's Christmas Clearance Sale at many stores earlier today, I've received LOTS of emails and messages with some aweomse reader finds. As reader Ali told us, you may want to scan your items because signs may say 70% off but at her store they are scanning 90% off… so check, just in case!
Check out what Mary found:
I got 8 bamboo snack plates for 3.96 normal price was 9.99 for 2. Spent 39 got $350+ worth of items. Love it, thanks for the heads up!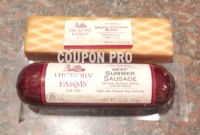 Check out what Justin found:
Target 90% off Christmas foods too. Got Hickory Farms Turkey and Beef summer sausage for $0.59
Check out what Vicki found:
Just came from Target on Long Island,NY everything that is left is 90%off.Loads of candy, bags, wraps ,etc. Great deals!!
Check out what Ali found:
Vista, CA Target was awesome at 9am this morning-signs said 70 and items rang up at 90. Scored 4 different platters from 19.99-12.99 marked down to 1.99-1.29 and a tablecloth for 1.39, 4 flameless candles for 1.39 each, various gift bags, curling ribbon, bows,and tissue paper for xmas and any other occasion from .20-.30. Used a betty crocker cookie mix coupon on the .20 chocolate mint cookie mix and got them free, ladies' sleep boxers for .99! The Oceanside, CA one was wiped out by the time I got there about noon: a few broken glass ornaments and some tissue paper was all that was left. It's such a rush to see "you saved 235.00″ on the bottom of my receipt!!
Prices may vary by location. Please let me know if you score any hot deals!
Thanks frugalpenny for pic and all you readers for your tips!