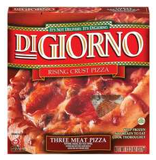 Super Bowl Coupons 2013
Super Bowl Sunday is almost here. If your hosting a party or just kickin' back watching the game with your family, here is a quick round-up of coupons that will come handy before the big game:
Drink Up
$0.50/1 Diet Pepsi 2 Liter
$1/2 Country-Time or Tang Drink Mixes
$1/4 Old Orchard frozen juice concentrate
Lets Eat
*HOT*

 Buy 2 Large DIGIORNO Pizzas, Get any ONE free
$1/1 Newman's Own Frozen Pizza
$0.55/2 Sargento Shredded Cheese
$0.55/1 Sargento Reduced Fat Cheese
$0.55/1 package OSCAR MAYER Classic Wieners
$2/1 Ball Park Flame Grilled Patties (mail option available)
$0.50/2 Pace products
$1/1 Wheat Thins Crackers (bottom left)
$1/2 Keebler Crackers
$1/1 Duncan Hines Frost – FREE at Walmart and Target after coupon!
$0.50/1 Duncan Hines Red Velvet Cake Mix
$1/2 packages of ARMOUR Pepperoni
$3/2 HORMEL Party Tray
$0.55/2 HORMEL Chili products
$1/2 HORMEL Bacon Toppings
Clean Up Time
$1.00 off Hefty Waste Bags
$1.50/2 Ruffies Trash Bags – $0.87 at Walmart after coupon!
$1/2 3 Big Roll Brawny Paper Towels
$1/1 Sparkle Towel 6 big rolls or larger
$1/1 package of Angel Soft Bath Tissue
$1/2 Packs of Vanity Fair Napkins
$1/2 Packages of DIXIE Napkins
$2/1 Glade Expressions Starter Kit – Only $0.99 at most stores after coupon!
Game Night
$4/1 ANY Scrabble Game – Only $1.54 at Target and Walmart after coupon!
Hangover
$1/1 Advil or Advil Migraine product
Be sure to print these coupons now because many of them may disappear at the end of the month. These products often go on sale, so be sure to pair this coupon with a sale for a great deal!