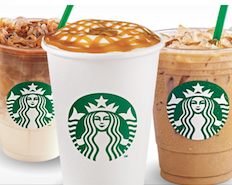 Starbucks $1 Reusable Cup
Interesting news! Starbucks has reportedly started selling a $1 reusable cup, resembling its paper version cups, at all of it's stores in the USA and Canda. The postive move by Starbucks is an effort to get customers to kick the habit of throwing away cups for every new drink. And best of all… Starbucks will clean cups for customers with a boiling-water rinse before each refill. Article doesn't say if it includes a discount of some sort. For more info, check out Starbucks $1 Reusable Cup!
I think what Starbucks is doing great but I'm not sold on the idea yet. Gotta try it first!
What are you thoughts on the $1 cup? Would you buy it/use it?
Thanks Lara!