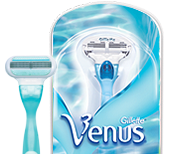 Possible FREE Venus Razor – Coming Soon!
Check out what Gillette Venus just posted on Facebook:
OK, Venus fans, we need your help! Once we have 1 million fans, we're going to celebrate.
They are at 995,753 fans right now. As you know, they giveaway free razors quite often, so be sure you "like" them. We'll keep you posted when it goes live!
Thanks Grace!