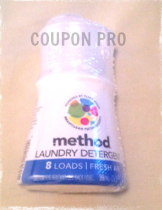 I Got My FREE Bottle of Method Laundry Detergent!!!
Remember the FREE Method Detergent Bottle (Expired Now) offer posted back on January 3rd? Well I finally got mine in the mail today… It's for a full 8 loads of Laundry! Did you receive your free bottle yet?
For more free stuff, check out our Freebies page here!