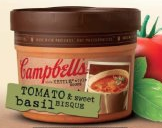 FREE Campbell's Kettle Soup – FIRST 500! (Twitter Users)
Calling all Twitter users! Hurry over to score a FREE Campbell's Kettle Soup for the first 500. They will message you asking for your address info at a later date. You can delete your RT after you get the message. Plus, don't forget to follow Coupon Pro on Twitter too!! Let us know if you score one!

 And don't forget to sign up for FREE Hot Offer Text Alerts so you never miss a hot freebie!
Thanks Sam and Ellen!