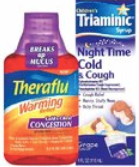 Cough Syrups Recall 2013
JANUARY 31, 2013 – Novartis is issuing voluntary recall on certain lots of Triaminic and Theraflu syrups. What's the reason? The child-resistant feature of the bottle cap may not function properly. To check if your product is on the list, click here and match NDC numbers near the top of your bottle and the likely 8 digit lot number next to the expiration date. For full details, go to Cough Syrups Recall 2013!
How to get your refund?
If you have any of the products stated, you can print a refund form or contact Novartis at 1-866-553-6742 for more information.
SHARE this post to inform your family and friends!
Thanks Regina!