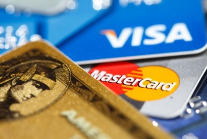 NEWS: Beware Credit Card Surcharges in 40 States
UPDATE: Target just responded to me saying, "At this time, Target will not assess a surcharge in our stores or on Target.com for any Visa or MasterCard."
Heads up! If you use a credit card, you gotta listen to this: Starting January 27th, which was yesterday, retail stores in 40 states are now allowed to charge you a credit card fee, up to 4%. So a $200 Camera could set you back another $8 with this new fee. This only applies to credit cards, not debit-cards.
Some of us are lucky though because 10 states prohibit credit card surcharges if you're making a purchase in any of the following states: California, Colorado, Connecticut, Florida, Kansas, Maine, Massachusetts, New York, Oklahoma and Texas don't have to worry. So retail stores in every other state could charge you a fee if they choose too.
Stores do have to warn you about this charge before your purchase AND must clearly state the fee on your receipt. Walmart has vowed they WILL NOT be charging this surcharge no matter what state your in, for now, but you still might want to ask. Waiting to hear from other stores. For full details, check out Credit Card Surcharges!
SHARE this post with friends to let them know too!
Thanks Sari and Elizabeth!