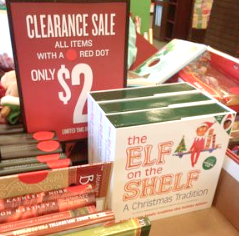 Barnes & Noble: Elf on the Shelf – Only $2.00!
Wow! If you're heading to Barnes & Noble soon, I'm hearing reports that many people are finding Elf on the Shelf on clearance for only $2. Even if you don't find it on clearance, you may want to still scan it, because you never know it might have the clearance price. That's an amazing price since this item retails for $24.95 on Amazon.com. Price and availability may vary, so maybe even call ahead. Let us know if you score this super hot deal!
SHARE this post to let your friends know too!
Thanks thriftyandthriving for pic!