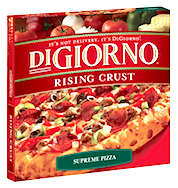 Target: DiGiorno Pizza Only $3.33 Each + FREE Ice Cream!
Check out this awesome Target deal starting 12/30:
Buy 3 DiGiorno Pizza on sale 3/$15
Buy 1 Edy's 6 count Frozen Fruit Bars (FREE when you buy 2 pizzas)
Use the B2G1 FREE DiGiorno Pizza Coupon
FINAL COST = $10 for all 3 Pizzas and Frozen Fruit Bars… basically under $3.33 per pizza!
Buy 6 pizzas, use 2 coupons and 3 boxes of free ice cream to get the DiGiorno Pizza for as low as $2.22 each. Let us know if you spot any other hot deals!
Thanks Sara!