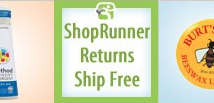 FREE 1 Year ShopRunner Bonus for Members – Check Your Email!
If you're an existing ShopRunner member, check out what Aal718 wrote:
I just got an email from Shoprunner saying they extended my membership 12 more months. So, check your email!
I personally didn't get the email but went ahead to check my account… and sure enough a 12 month bonus of ShopRunner was added to my account. My membership doesn't expire until 12/19/2014… WOOHOO! Let us know if you got this email! 😀
What is ShopRunner?
A shopping platform that gives you unlimited FREE 2-Day Shipping, No Minimum Orders, FREE Returns and much more to many of the biggest and best online stores. Watch this video answering your what is ShopRunner questions!
NOTE: You can easily set your account as "Do No Renew" in your account settings, that way your not charged the yearly fee.
Thanks SD!