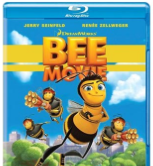 Dollar Tree: Blu-Ray Movies for ONLY $1?!
Wowza! So I've been hearing reports that many Dollar Tree locations are carrying various Blu-ray movies for ONLY $1. They are usually located in the front near the registers while your checking out. I've heard people finding The Bee Movie, Ernest Goes to Camp, Last Dance and many more. Now these aren't the greatest movies and most are quite old, but for a buck is un-heard of. Check out this YouTube video of one guy showing off his movies or this YouTube video of one lady showing off her movies! These would make great stocking stuffers! 😉
Please note, not all locations will carry Blu-ray movies, so I highly suggest you call ahead!
Thanks Lara!