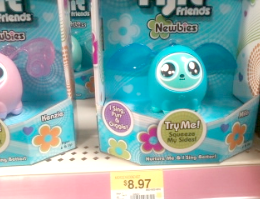 Walmart: FREE Fijit Friends with Coupon ($15 Value!)
Wow! Check out what Vana sent us:
Just printed them and ran to Walmart. I live right next to one. They had the Halloween ones 75% off of $14.97 and I was able to print two coupons so I got two. The cashier handed me back $12.42 and that was enough to go order pizza! Thanks guys! Love ya!
And here is this *SUPER HOT* Walmart deal if your store has them on clearance:
Original Fijit Friends Halloween edition $3.75 (75% off down from $14.97)
Use the $10/1 Fijit Friends Coupon
FINAL COST = $6.25 money maker!!!
Hurry, this coupon won't last long!!!
Thanks photocredit for pic and Dana!