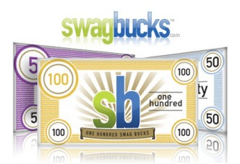 Swagbucks Code Extravaganza (11/26)
It's a Swagbucks Code Cyber Monday Extravaganza! They will be releasing new Swagbucks codes all-day long to celebrate Cyber Monday this week, so keep checking Coupon Pro for the latest Swagbucks code updates. HINT: If you haven't already, join Swagbucks today then read the following carefully as we will post details as a new codes are released:
CODE #1: EXPIRED!
CODE #2: EXPIRED!
CODE #3: EXPIRED!
CODE #4: EXPIRED!
CODE #5: EXPIRED!
CODE #6: EXPIRED!
CODE #7: EXPIRED!
CODE #8: EXPIRED!
After you've found the Swagbucks codes, simply enter the code at SwagBucks.com on the upper right in the "Gimme" box. If you join today, you can earn a bonus 110 Swag Bucks when you use code NOVEMBERSB during registration process. Code expires 11/30/12.
What is Swag Bucks? For full details, go check out our Swagbucks FAQ!