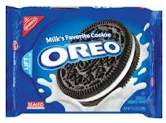 Oreo Coupon – Save $0.50
Woo hoo!!! Hurry over to print a rare Oreo Coupon for $0.50/1 package when you use zip 77477. How to change your zip code? Simply click the link above then click Local Coupons tab and enter zip code in the box on the upper left corner then click the Coupons
tab to access this coupon. I've seen these as low as $1.99 each, so only $1.49 after coupon! Hurry, this coupon won't last long!!!