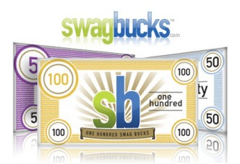 New Code Worth 5 Swag Bucks (11/19)
New Swagbucks code! HINT: If you're new, join Swagbucks then grab the new code worth 5 Swag Bucks posted on their TWITTER… check latest posts! After you've found the Swagbucks codes, simply enter the code at SwagBucks.com on the upper right in the "Gimme" box. Code expires at 7PM ET, so hurry!
What is Swag Bucks? For full details, go check out our Swagbucks FAQ!