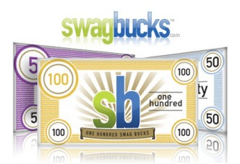 New Code Worth 4 Swag Bucks (11/15)
New Swagbucks code! HINT: If you're new, join Swagbucks then grab the new code worth 4 Swag Bucks posted on their FACEBOOK … check post! After you've found the Swagbucks codes, simply enter the code at SwagBucks.com on the upper right in the "Gimme" box. Code expires at 10:30PM ET, so hurry!
What is Swag Bucks? For full details, go check out our Swagbucks FAQ!