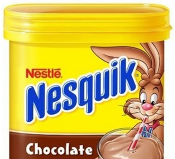 Nestle Nesquik Recall 2012
NOVEMBER 8, 2012 – Nestle has issued a voluntary recall on Nesquik chocolate powder mix in 10.9-, 21.8- and 40.7-ounce canisters produced in early October and sold across the country. What's the reason? Possible salmonella risk. For full details, go to Nestle Nesquik Recall 2012!
How to get your refund?
If you have any of the products stated, we'd suggest trying to return it to your place of purchase for a full refund or contact Nestle at (800) 628-7679 for more information.
Be sure to SHARE this post to inform your family and friends!
Thanks Dana!