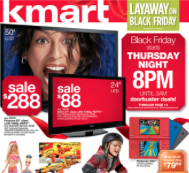 Kmart Black Friday Ad 2012
The new Kmart Black Friday Ad has just been released with lots of door busters on household items, toys and much more! Doors open at 8PM on Thanksgiving night. I've also posted the Target and Walmart ads too. For the latest ads and sales, check out Black Friday Deals 2012!
Thanks Joe and Stephanie!