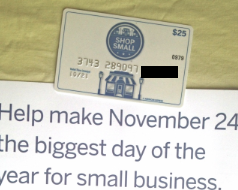 I Got My FREE $25 American Express Gift Card!!!
Remember the FREE $25 Amex Gift Card Giveaway (40,000 Winners) offer posted back on November 1st? Well I finally got my gift card in the mail today!!! I can't wait to use towards the small businesses in my town (shown here). Did you guys receive yours yet?!
For more chances to win, check out lots of Giveaways and Sweepstakes here!