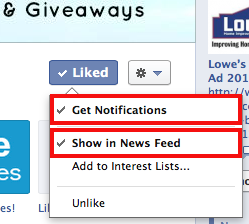 Follow Coupon Pro on Facebook? Please Read!
New update! Here's a quick tip to always have Coupon Pro appear on your Newsfeed:
"Like" Coupon Pro on Faceboook
Click the "Liked" button (as pictured above)
Check the "Get Notifications" and "Show in News Feed" options. That's it!
And be sure to follow this Facebook Tips & Tricks Page for even more info so you'll never miss a deal again!