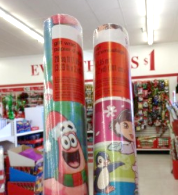 Dollar Tree: FREE Dora or Sponge Bob Wrapping Paper!
Check out this awesome Dollar Tree deal if you find these at your store:
Dora or Sponge Bob Wrapping Paper $1
Use the $1/1 American Greetings Wrapping Paper Coupon (zip 77477)
FINAL COST = FREE!
* How to change your zip code? Simply click the link above then click Local Coupons tab and the zip code box should appear on the upper left corner then click the Coupons tab to access these coupons once you've entered the zip above.
You should be able to use this coupon ANYWHERE, since "Walmart" is stated no where on the actual coupon. Let us know if you spot any other hot deals!