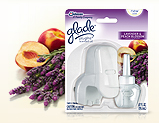 CVS: FREE Glade Plugin ($1.25 Value!)
Check out this awesome CVS starting 11/18:
Glade Scented Plugin $1.25
Use the $1/1 Glade Plugin Coupon
PAY = $0.25
Get back $1.25 ECB (limit 1)
FINAL COST = FREE + $1 Moneymaker!!!
Check your local ad for more savings and be sure to let us know if you spot any other hot deals! If your unfamiliar with CVS, here's a quick CVS shopping guide!