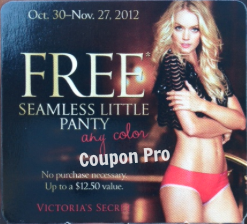 Victoria's Secret: FREE Seamless Little Panty ($12.50 Value!)
If you shop at Victoria's Secret often, you're probably aware that they often send their loyal customers some awesome coupons redeemable for totally free stuff. My mom just received a new Victoria's Secret booklet in the mail with the 3 valuable coupons including one for a FREE Seamless Little Panty Panty (No purchase necessary!). Coupon valid 10/30 – 11/27/12.
Did you receive this or any other freebie from Victoria's Secret lately? Let us know!