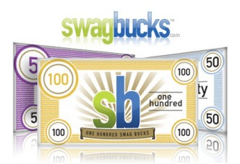 New Code Worth 5 Swag Bucks (10/26)
New Swagbucks code! HINT: If you're new, join Swagbucks then grab the new code worth 5 Swag Bucks posted on their BLOG… check latest post! After you've found the Swagbucks codes, simply enter the code at SwagBucks.com on the upper right in the "Gimme" box. Code expires at 7 PM ET, so hurry!
What is Swag Bucks? For full details, go check out our Swagbucks FAQ! If you're a new member, be sure to enter promo code CODEHAUNT during registration to earn an extra 70 Swagbucks. Code valid through 10/29!
Here's what one Coupon Pro reader thinks about Swag Bucks:
"I didn't think it was a big deal and never would join. I finally decided to give it a try thinking what could it hurt & in under 2 months I have earned: $25 Amazon credit AND $10 to my PayPal account! Now I am kicking myself for waiting! LOL" Sheila, Coupon Pro reader