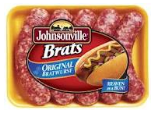 B1G1 FREE Johnsonville Brats Coupon
Hurry over to Facebook grab a new Johnsonville Brats Coupon for Buy 1 Get 1 FREE… make sure you check your email to confirm and enter your address. Coupon will arrive via mail.
UPDATE: If it doesn't work Johnsonville said this "Could you please log out of Facebook, restart your internet browser, reenter and try again here ->http://www.facebook.com/johnsonville/app_403994169661170? If it still doesn't work, please send me a private message above. Thanks!"
Thanks asupersavvysaver and Dana!