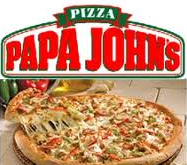 FREE Papa John's Large Pizza! HURRY!
Hurry! Head over to Papa John's website, log in to your Papa Rewards account and enter code HS0XSC9HWW or HQG5QCWSWW or 25PAPA on the top right which will add 25 points to your account. Enough to order a FREE large pizza! Hurry!
NOTE: To add the code simply click the link above after you log in then look for promo code box before you place order.
(thanks @Kerri)