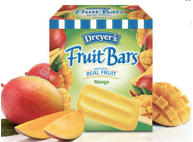 Dreyer's Fruit Bars Coupon $1/1

Mmmm! Hop on over to Facebook to print a new Dreyer's Fruit Bars Coupon for $1/1 Dreyer's Fruit Bars. It's oddly not working on Safari browser. Want to save ink? Click "Help" on the lower right of the bricks coupon printer page to get this coupon mailed to your home. Let us know if you spot any hot deals!
P.S. Make friends and share deals with over 101,284 fans of Coupon Pro on Facebook!
(thanks @coupongeek)