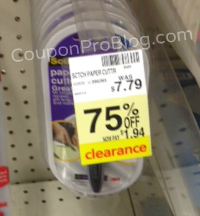 CVS: Scotch Paper Cutter $1.94 (was $7.79) – Great for Cutting Coupons!
If you have a few bucks to spend, check out this great deal I spotted at my CVS for the Scotch Paper Cutter on clearance for only $1.94 (was $7.79). So if your always cutting coupons, like me, this may be well worth it for ya. Any coupons out there for this product? Let us know if you score this deal too!
* Clearance prices may vary.