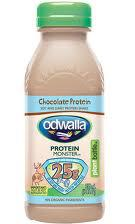 Odwalla Recall 2012
APRIL 6, 2012 – Odwalla is voluntarily recalling its Chocolate Protein Monster drinks in 12-oz and 32-oz bottles with the "enjoy by" dates prior to and including May 23, 2012. What's the reason? Many customers with peanut allergies reported severe reaction. For full details, go to Odwalla Recall 2012!
I have the Vanilla flavor in my fridge right now!!! Whew!
How to get a refund on your recalled products?
If you have any of the products stated, make sure to contact Odwalla at 1-800-ODWALLA or 1-800-639-2552 for information on how to return the affected products and receive reimbursement.
(thanks so much @Stephanie)