How to create a list on Facebook to quickly find Coupon Pro?
Well once again, Facebook has made lots layout changes this month (April 2012) and because of it you may be missing a lot of our posts. One of the best tips is to "LIKE" and "SHARE" our posts because that tells Facebook your interested in our page. But you can also follow the simple steps below so you'll be able to quickly access Coupon Pro and all our savings and deals with one-click every time you login to Facebook.
Here are the 5 easy steps so you'll never miss a deal: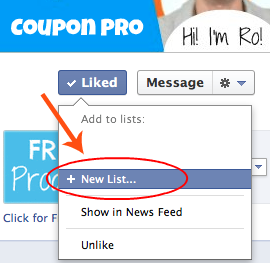 1. Login to your Facebook account and go to the Coupon Pro Facebook Page . After doing so, "Like" us if you haven't already then hover over the "Liked" button then click the "+ New List…" section to create a new list, as shown above. Go to step #2!

2. Now a popup window like shown above will appear. Coupon Pro should already be added for you, so all you have to do now is click the Next button on the lower right. Go to step #3!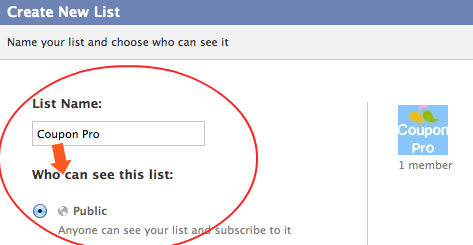 3. You will now be asked to create a list, so type "Coupon Pro" in the text area and we suggest you choose the Public option so your friends and other can your see your Coupon Pro list too. After doing so, all you need to do is click Done. Go to step #4!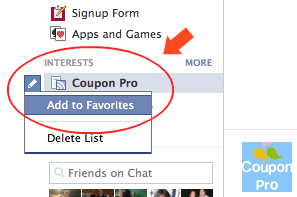 4. You will be brought back to your News Feed page. Now once again, find the Interests section (you may need to click MORE for it to appear) on the left hand side. Simply click your new interest list "Coupon Pro" then carefully scroll over the Coupon Pro tab shown above and a tiny pencil should appear to the left. All you need to do click the pencil. Once you click the pencil, a drop down menu should appear and you will need to click "Add to Favorites". Go to step #5!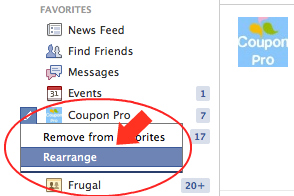 5. Now Coupon Pro will appear in your favorites section in the top left of your News Feed but make sure you once again carefully scroll over the Coupon Pro tab shown above and a tiny pencil should appear to the left then click the "Rearrange" and move Coupon Pro up or down your favorites list however you please.  We hope you'll put us at the top of the list! All done! 😀

Yay! And now you can access all our posts straight from your wall by simply clicking the Coupon Pro tab anytime you login to Facebook. 😀
Did this help you? Let us know!