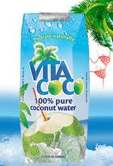 Vita Coco Coconut Water Giveaway (640 Winners!)
Vita Coco just posted the following on Facebook:
Want to get lucky? In celebration of the world's juiciest jackpot ever ($640 million, amigos!) we're giving away 640 cases of Vita Coco! Simply send an email with the subject line "VITA COCO" to lottery@vitacoco.com for your chance to win.
Good luck! 😀
(thanks @Alissa)