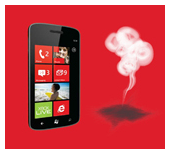 Microsoft Challenge = FREE Windows Phone?!
WOW! Ok so today and tomorrow, March 29, 2012 only, Microsoft is holding the "Smoked by Windows Phone Challenge" by giving away prizes and opportunity to exchange your current Smartphone for a new Windows phone for FREE. All you need to do is show up to a participating Microsoft Store and bring in a working Smartphone (rumor is you must have internet on it) and simply tell them you want to take the challenge. Winners and losers will be able to exchange their Smartphone for the Windows phone with NO contact required. You will be asked to fill out a recycling form and given the choice of the following phones:
ATT: HTC Titan, Samsung Focus S
T-Mobile: HTC Radar, Nokia 710
Verizon: HTC Trophy
I'm hearing reports that lines are growing by the minute as word spreads really quick, so you may have to wait hours to get this. You may want to call ahead too and ask if your phone is eligible or not. For full details, check out the Microsoft Challenge blog post! Please email us any updates or images to couponproblog@gmail .com!
(thanks so much @Jon and @Rmenda)