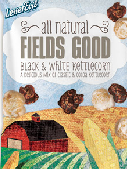 FREE Sample Bag of LesserEvil Snacks
Check out what LesserEvil Snacks posted on Facebook:
We reached 1,000 fans!! Thanks so much to all of you.. If you didn't get in touch with us to get your free sample bag of Krinkle Sticks, you have until midnight EST tonight to do so via Facebook message or email at Talk2us@LesserEvil.com. 
Hurry and send that email before they are all out!