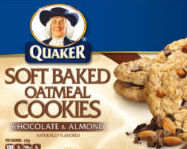 FREE Quaker Cookie for FIRST 20,000!
Wow, another free sample! Hurry over to Facebook and allow access to your profile to score a FREE sample of Quaker Cookie when you simply tell em' about an accomplishment you've made recently. No need to upload photo. Let us know if you score one!
P.S. Make friends and share deals with over 97,000 fans of Coupon Pro on Facebook!
(thanks @Tamber)