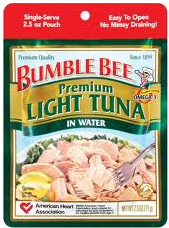 Bumble Bee Tuna Coupon $1/1
If you love tuna, hurry on over to Facebook to print a Bumble Bee Tuna Coupon for $1/1 5 oz Bumble Bee Premium Tuna Pouch OR ONE 5 oz Bumble Bee Sensations Seasoned Tuna Medley Bowl OR ONE 5 oz Bumble Bee Prime Fillet gold can. Any coupon deals out there?
P.S. Make friends and share deals with over 96,000 fans of Coupon Pro on Facebook!
(thanks @Fatima)