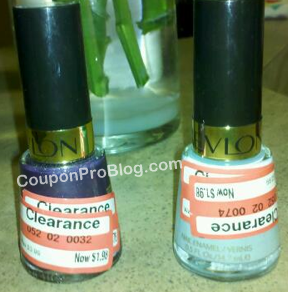 Revlon Cosmetics Coupon = FREE Nail Polish at Target?!
Check out this email I received from reader Linda:
Hi Roland. I love your site but this is the 1st time I have ever contacted you, keep up the good work 🙂 I really appreciate all you do. The $2 off Revlon Target coupon that you told us about a few days ago scored me some free nail polish. As you can see on the picture attached, I found some Revlon nail polish @ Target for $1.98, since it was less than the $2 on the coupon the computer automatically takes off $1.98 instead of the $2, so basically taxes only 🙂  and this was in the same spot as all the rest of the polish but had the big red sticker that I love so much to see. Hope you have a great day 🙂
Revlon Nail Polish possibly on clearance for $1.98
Use the $2/1 Revlon Cosmetics Coupon when you use zip 30303
FINAL COST = FREE!
Just an FYI, Revlon Nail Polish is considered a cosmetics item. If you didn't already know, this Target coupon can be combined with the manufacturer coupon found in the 1/29 SS newspaper insert. There are reportedly lots of other Revlon items on clearance too. Be sure to let us know if you score this deal or any other hot Target deals!
(thanks @totallytarget and @Linda)