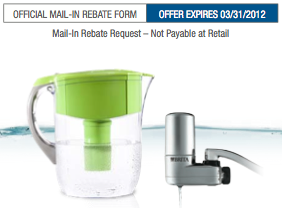 Brita NOT Honoring $10 Mail-in Rebate
UPDATE: Brita will honor rebate. New details posted on Brita rebate decision!
BREAKING NEWS — Oh dear! Remember the HOT $5 Money Maker Brita Pitcher Deal at Walmart post from last week on 1/14/12? Well according to the fiery of comments left on Brita's Facebook wall regarding the rebate, it looks the $10 Brita Rebate will NOT be honored after all, even though the rebate offer expires 3/31/2012. The comments below were posted earlier today:
According to Brita, "the rebate was so popular that we could not distribute any more forms. We will be honoring all rebates that have been mailed in already." I'am extremely disappointed in how they are handling this especially because the rebate has a while until the original expiration date of 3/31/2012. You can always return the item for your money back or call Brita in the morning (as they are now closed) at 1-800-24-BRITA for more details or to express your opinion.  We'll keep you posted!
Thanks iheartthemart for the heads up!