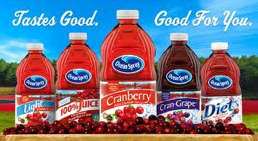 B1G1 FREE Ocean Spray Juice Coupon
Wahoo! Hop on over to Facebook to print a rare Ocean Spray juice coupon for Buy 1 64 oz Ocean Spray Cranberry Juice Drink, Get 1 64 oz Ocean Spray Cherry Juice Drink FREE. Want to save ink? Click "Help" on the lower right of the bricks coupon printer page to get this coupon mailed to your home. These are often $1.99 at many stores, so only $1 each after coupon. Also, perfect for those cocktails on Super Bowl Sunday ;). Any deals out there?
P.S. Make friends and share deals with over 93,000 fans of Coupon Pro on Facebook!
(thanks @Brittany)