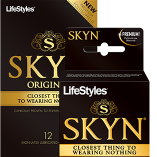 FREE LifeStyles Condoms at Walgreens
Here's a sweet deal you can score a Walgreens during their 5 day sale starting today 12/27 through 12/31:
LifesStyles Skyn Condoms (3 pack) $4.99
PAY = $4.99
Get back a $4.99 RR (limit 1)
FINAL COST = FREE! 😉
If this deal wasn't good enough, my Walmart accepts Register Rewards since they are manufacturer coupons, so I try to use them there and often get money back if my purchase is less than the amount of the coupon! It's like hitting the jackpot, kind of!