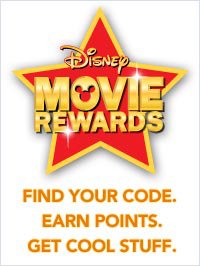 5 FREE Disney Movie Reward Points
Are you a Disney Movie Rewards member? If so, enter the following codes for 280 FREE Points:
NEW!

JFYE759YKGH = 5 points!
Head on over here, sign up or login, click the 'Connect to Facebook' button on the right under the magic code box, allow access to your profile, login once again and the points should appear in your account

= 25 points!

Take the short Member Technology Survey = 25 points!

CouponProBlog .com

Take this short survey = 25 points!
Take this short survey = 100 points!
Login or join, then under 'Earn More Points' click 'Surveys' section and complete the latest 'Baby Einstein' survey = 50 Points!
FPSNN83JX9 = 25 Points!
SIMBA = 25 points (New members only)
CouponProBlog.com
MATER = 25 points (New members only)
That was easy! Disney Movie Rewards is an awesome program that rewards those who buy disney movies and watch disney movies in theaters. Plus, they often release FREE codes. Points can be redeemed for cool toys, DVD's and more.
Please leave a comment below if any of the codes above are expired.