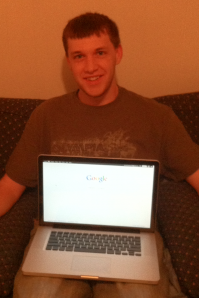 Hi Everybody, it's Justin here! 😀
I know I don't usually speak up too much here but I thought I'd tell you a nice quick little story about an adventure I had. I had some extra free time this summer between college classes. So what did I do? I spent more time on Swagbucks, completing surveys, doing product reviews on EXPOTV, and entering some contests. Believe it or not in 4 short months I earned over $1900 in Amazon.com gift cards! So guess what I got for next to nothing?! A brand new 15.4″ Macbook Pro worth $2000+!!!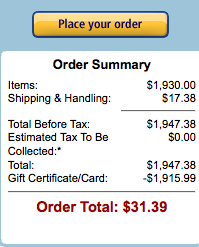 In terms of completing surveys, many companies will pay you for your opinion and we've posted about many of these survey companies before! As will many Colleges and Universities. Yale, Stanford, and Kellogg Universities will give you an entry to winning amazon gift cards for qualifying and completing surveys. They will tell you the odds of winning. For instance a survey about political views might be 15 minutes long and a 1/35 chance of winning $25. These are very good odds. Enter plenty of these and you might end up winning a few :). If you are looking into survey sites and you are unsure if it is a scam, SurveyPolice.com is a great site to check that out!
So you are probably thinking right now "what are some great tips for contests." Well, here are some Grade tips on entering online contests:
Enter either late at night or early in the morning (When there are less people online, the chances of winning increase)
Don't just enter a contest once and walk away. A lot of contests let you enter once per day. Enter those often.
Even if you don't think you have a chance, consider this: If you don't enter, you can't win.
You have a much better chance at winning if you have entries in a lot of contests. Much better off having 1x entry in 1000 contests, than 1000x entries in a single contest. Keep in mind it only takes 1 entry to win sometimes.
Always read the rules of the contest. When you are required to buy a product to enter to win, the rules say that you can also enter for free by clicking a specific link, or just mailing an envelope!
Here are just a few of my winnings in the past few years by following the above tips:
46″ HDTV from Dunkin Donuts
A Year of Subway Subs ($260 Gift Card + another $200 from other Subway contests)
A Year of McDonalds Fruit Smoothies
A Budweiser Propane Grill
300+ Regal Movie Tickets
$200 Visa Gift Card
Now keep in mind, not everybody can do what I've done. Contests have random winners, and you have to fit certain demographics to be qualified for certain surveys. But don't let this discourage you! I'm not posting this to brag, but to inspire! There are millions of contests out there just waiting to be won. All you have to do is enter!
If you have any questions or comments, feel free to shoot me an email at Justin@couponproblog.com and I'll do my best to help you out!