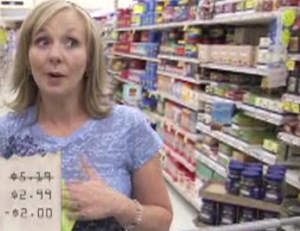 Here are some of the wacky and funny quotes from last nights 9/28 season 2 premier of Extreme Couponing on TLC:
"Free always tastes better"
"50 cents or less, but FREE is the best!"
 "Without a coupon it doesn't go in the basket"
"I Love Couponing!"
Also, here are a few highlights from the show:
$1,313 worth of groceries for FREE + $0.31 in overage. They paid her to walk out with over $1,300 worth of groceries!
Erin did a whopping 16 transaction. Could you image standing in line behind this lady?
Amanda brought only $30 with her to the store. Do you take cash to the supermarket to stay under budget?
April saved 97% on her trip to the grocery store. What's the most you've ever saved with coupons?
A coupon WITHOUT and expiration date. Huh? Have you ever seen one?
What did you guys think of last nights season premier of Extreme Couponing?