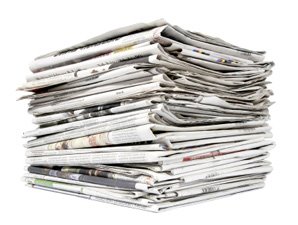 Check out this new article of USA Today:
"Discount-seeking consumers swipe newspapers to pad savings
Wednesday, August 17, 2011
Newspapers are mysteriously vanishing from racks across the country. Thieves are swiping Sunday papers from driveways, and others are digging through people's trash looking for discarded newspapers.
Authorities and newspaper executives attribute the rash of nationwide thefts to "extreme couponing," a growing trend in which shoppers use dozens — sometimes hundreds — of coupons at a time to vastly reduce their grocery bills.
The craze, authorities say, has been fueled in part by the recent TLC show Extreme Couponing. It features homemakers and couples stockpiling reams of coupons, filling up several carts of groceries at the store and buying hundreds of dollars' worth of items for just a few dollars. The show also features shoppers wiping out entire grocery shelves, building additions to their homes to store the surplus goods and Dumpster-diving for discarded coupons.
The trend has prompted increased newspaper thefts as enthusiasts seek out even more coupons, police and newspaper execs say.
Recent incidents include:
An Arkansas woman was arrested Aug. 4 for allegedly stealing 185 copies of the Sunday Springdale Morning News. She told police she didn't think the act was illegal.
Denton, Texas, police arrested a 37-year-old woman in June for allegedly stealing coupons from a rack of newspapers in front of a fast-food restaurant.
TheIdaho Statesman in Boise filed a police report in May after an employee saw a woman pilfering all the coupon ads from a newspaper rack after purchasing a single copy.
The swipes most hurt newspaper delivery people, who end up paying for the missing copies, says Sam Mazzzara, circulation manager at The Cullman (Ala.) Times, where thefts have jumped 30% this year. His paper ran a front-page story last month on the trend and offered a $500 reward for information leading to an arrest.
Producers defend the show, which debuted in April, saying it helps viewers save money during tough times. The show doesn't condone the thefts, says Matt Sharp, Extreme Couponing's executive producer. "More people than ever are couponing, and we've contributed to that," he says.
Not everyone's complaining. The coupon craze has bolstered sales at The News & Observer in Raleigh, N.C., says Jim Puryear, vice president for circulation. The newspaper has seen an uptick in thefts at racks, and workers have chased away coupon-hunters from Dumpsters at the paper's recycling center. Overall, the increased interest in newspapers is welcomed, he says. "We're fine with the coupon craze and the show," Puryear says. "It's a win-win for newspapers."
For more couponing tips and tricks, visit our Become A Coupon Pro page!
Read similar article from the HuffingtonPost. We'd love to hear you what you think. Thoughts?
(thanks @usatoday and reader who sent along this article via email)