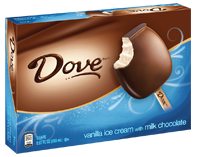 UPDATE: All gone! 🙁
Happy National Ice Cream Day y'all :D…. Dove just released a printable coupon for $1/1 Dove Ice Cream when you "like" them on Facebook then click the 'Ice Cream Coupon' tab. Want to save ink? Click 'Help' on the bottom right of the bricks coupon printer page to get this coupon mailed to your home.
Any deals out there?
P.S. CLICK HERE to "like" Coupon Pro on Facebook too!