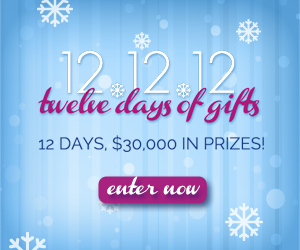 12 Days of Gifts Sweepstakes (78 Winners)
Yay! Wanna win an awesome prize? Enter the 12 Days of Gifts Sweepstakes for your chance to win 1 of 78 prizes including a Xbox, KitchenAid Mixer, iPad, $12,000 gift card and much more… that's over $30,000 in prizes!!! You may play everyday to instantly win but the last day to enter is 12/12/12. Good Luck!
For more chances to win, check out lots of Giveaways and Sweepstakes here!